WE HAVE RAVING FANS!
A Rockstar Experience for every guest, and nothing less! We treat strangers like friends, and friends as family every day ALL DAY!
It is truly important to us to help each and every visitor select the right sleep system.
We are most proud of our teams ability to fit our guests correctly based on unique bodily needs.
Whether its a bed for your master bedroom, spare bedroom, or mattress for your child... We've got it and you'll be pleasantly surprised at the everyday low prices!
READ OUR REVIEWS HERE >
"More Snuggle Sleep Systems"
More Snuggle Sleep Systems, are uniquely designed and offer a custom sleep experience for you and your spouse. The upper third of the mattress is divided while the bottom two thirds is made just like a traditional mattress is made. This creates what we call the SNUGGLE ZONE.
>  Your Position Changes Everything In the Bedroom
The custom sleep experience we speak of is a "touch of a button" easy too. No complex parts that can break, just touch the button and achieve your own customized sleep position unique to your side of the bed while your spouse does
the same.
>No More Divide
Previously, the only way to accomplish a unique and customized sleep experience was to combine two twin extra-long mattresses but couples had to live with the divide in the middle, between them. There is a comfort and relaxation benefit gained to having your spouse with you in bed, it's hard to replicate if you feel you are sleeping apart. Now, we proudly offer Split Head Queen and King Mattresses!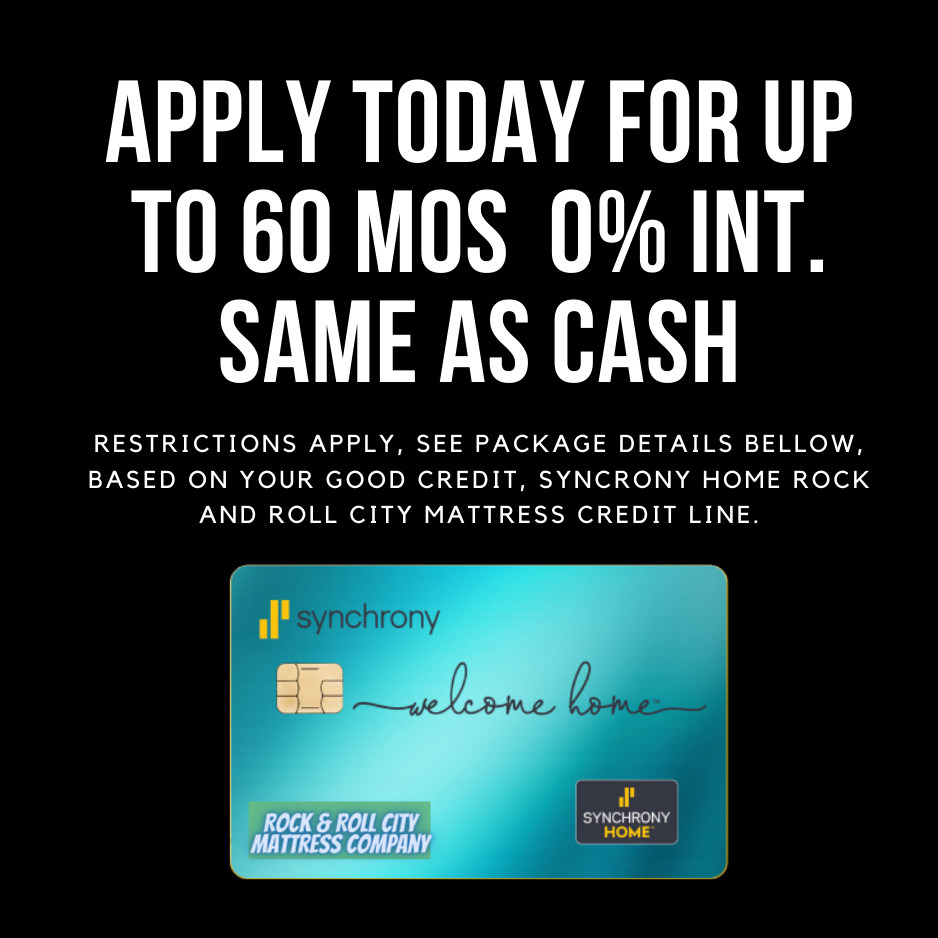 LETS GET YOU APPROVED!
At Rock & Roll City Mattress, we not only provide access to world class sleep products, but also pride ourselves on making those products affordable.
With a Synchrony Home Credit Card from Rock & Roll City you can enjoy access to long term financing options that normally may not be available.
Apply today with your good credit, and take advantage of our " $0 down, Buy it today sleep on it tonight promotion," with no down payment necessary on your purchase. Some restrictions do apply, see store associate for details.
We also encourage our guests to apply for non-credit based financing through some of our other 100 Day same as cash partners. this may be the best option for guests with challenged credit history.
APPLY NOW>
Shop Our Stores!
Strongsville Location📍

 

 

Monday 11 AM- 6 PM

Tuesday  & Wednesday : By Appointment Only 

Thursday 11 AM - 6 PM

Friday 11 AM - 6 PM

Saturday  11 AM - 6 PM

Sunday 12 PM - 5 PM